Rocky Horror Extravaganza – Wizard World Chicago
August 26, 2017 @ 9:00 pm

-

August 27, 2017 @ 12:00 am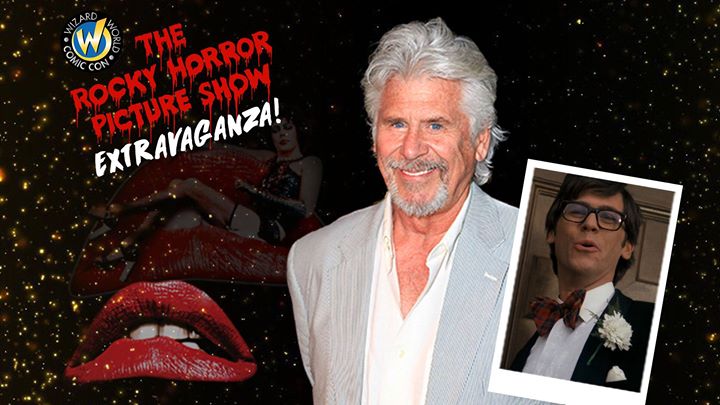 TICKETS: http://fgtix.to/2tG4W0c
Fans of the original RHPS movie, cosplayers, and all pop culture fans are going to love this one night Rocky Horror Extravaganza!
Wizard World has teamed up with legendary film producer Lou Adler and The Rocky Horror Picture Show Official Fan Club to bring you a special event, an evening screening of the original Rocky Horror Picture Show movie, with host and original movie cast member, Barry Bostwick, plus Chicago's local shadowcast Midnight Madness, and a display of original props and costumes from the movie!
During the day, if you are a Wizard World convention ticket holder come down and meet Barry Bostwick and visit the Rocky Horror Picture Show Fan Club table with a memorabilia display from Larry Viezel's personal collection. We have t-shirts, buttons, posters and more for sale. You can also get an item autographed by the original Brad Majors himself, Barry Bostwick!
Later that night Midnight Madness takes the stage at 9:00pm in front of the "Queen of Cult Movies" The Rocky Horror Picture Show. The show will feature full audience participation. Costumes encouraged. Prop kits will be available at the screening with everything you need to participate in the show.
GET YOUR TICKETS HERE: http://fgtix.to/2tG4W0c
There are three tickets types for this show!
GENERAL ADMISSION: $20
Comes with a seat and a great view of the stage!
GOLDEN CIRCLE: $35
Best seats in the house! Sit near the stage and fully immerse yourself in audience participation. Limited tickets, so buy now! http://fgtix.to/2tG4W0c
VIP: $89
Includes a VIP meet and greet with Barry Bostwick from 8 – 9 pm (room TBA) prior to the screening, a golden circle seat, plus a photograph (your own camera) and an autograph. Limited tickets, so buy now! http://fgtix.to/2tG4W0c
FREQUENTLY ASKED QUESTIONS:
Q) Can I still see the show without a convention ticket?
A) Yes. Admission to the show is a separate ticket from the convention. But go to the convention itself. Its absolutely worth it.
Q) Where do I go when?
A) If you are a VIP ticket holder go to the VIP Meet and Greet at the convention center from 8 – 9 pm (TBA) If you are a golden circle or general admission ticket holder, line up for the Rocky Horror will be just outside the main stage. Doors opening around 9:00.
Q) Is audience participation allowed?
A) Allowed and encouraged. Please feel free to come in costume, prepared to yell back at the screen and throw things around the auditorium. The cast will have prop kits available with everything you need to participate in the show. No open flames are allowed during the show (lighters, candles, etc) especially not during scenes where you might also be holding a newspaper on your head.
Q) Is this show family friendly?
A) The movie is rated R (based on 1975 standards), features sexual themes, explicit language, brief nudity, cross-dressing, implied sex seen through a curtain, murder and cannibalism. To some this is offensive, to some this is the evening news. We can't decide what is appropriate for your family, but we can warn you that its not The Wizard of Oz. Your mileage may vary.