Out on Broadway 3 Opening NIght and After-Party
August 4, 2017 @ 8:00 pm

-

10:00 pm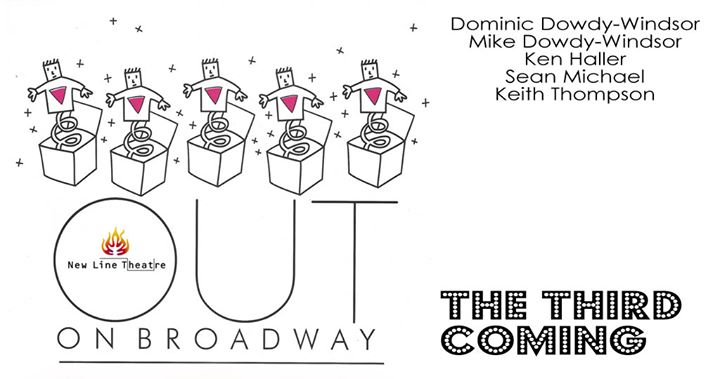 The New Liners broke all new ground in 1996 and again in 2000. Third time's a charm.
New Line closes its 26th season with the third chapter in New Line's unique series, OUT ON BROADWAY, an original revue of musical theatre songs performed from the perspective of five gay men, an intimate evening of funny and emotional performances, with just five guys, a piano, and no microphones. Some songs will be brought back from the earlier shows, and we'll add new songs as well.
The first OUT ON BROADWAY opened in March 1996, featuring Chris Brenner, Tracy Collins, Quenten Schumacher, Keith Thompson, and Eddie Webb, with Scott Miller on the piano, It sold out every show, and was brought back in August of that year, again selling out the run. Reviewer Mike Isaacson wrote in The Riverfront Times, "United in song and spirit, the cast and audience celebrate the fusion of a Broadway past into the home for a community's political future." We recorded an original cast album a few years later (available on Amazon).
OUT ON BROADWAY 2000 (affectionately known as OOB2K) opened in March 2000 for yet another sold-out run, this time with the same cast, except with Robb Kennedy replacing Quenten Schumacher, who had moved to Chicago. The Riverfront Times' "Best of 2000" issue said, "New Line Theatre's Out on Broadway 2000 gender-reversed Broadway and cabaret standards and provided dreamy entertainment. All that was missing was the clink of ice cubes and a blue haze of cigarette smoke."
The cast of New Line's third installment, OUT ON BROADWAY: THE THIRD COMING, includes Dominic Dowdy-Windsor, Mike Dowdy-Windsor, Ken Haller, Sean Michael, and Keith Thompson. Only Thompson returns from the original cast. The show will be directed by Scott Miller, with music direction by Jeffrey Richard Carter, and scenic and lighting design by Rob Lippert.
OUT ON BROADWAY contains adult language and content.