NOW Night Out with Flo Rida and AJR
July 14, 2017 @ 7:30 pm

-

11:00 pm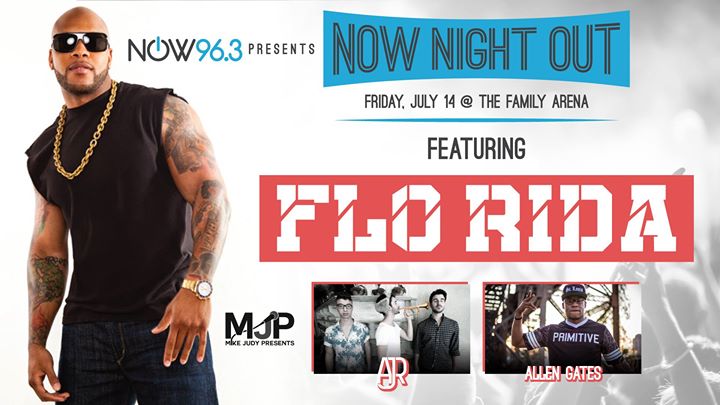 Over the last several years, Flo Rida has pulled off a pretty neat trick. Not only has the Florida-born rapper become a chart fixture thanks to the blockbuster singles "Low (feat. T-Pain)," "Right Round," "Club Can't Handle Me," and his chart-topping hits, "Good Feeling" and "Wild Ones (feat. Sia)," he's also broken down barriers by uniting millions of fans of pop, hip-hop, and club music around the world and establishing himself as an international, genre-busting superstar in the process.
In addition to crafting worldwide hits, Flo Rida is also focusing on ushering in a wave of new stars to the music industry by way of his International Music Group (IMG) record label. Artists currently signed to IMG include Hip-Hop newcomer Whyl Chyl, Recording Group on the verge Team Phlyte and Canadian Pop Sensation Tyler Medeiros.
Comprised of three brothers – Adam, Jack, and Ryan – from which the group derives their namesake, AJR first achieved major acclaim with their single "I'm Ready." The electro-pop smash is certified Platinum with over 18.5 million YouTube views, 44.5 million Spotify streams, a feature in Amy Schumer's Trainwreck trailer, double platinum certification in Australia and airplay on pop radio stations across the country. AJR's latest release What Everyone's Thinking is a 5-song EP decorated with explosive choruses and buoyant synth. Lead single from the EP, "Weak," has received major acclaim landing them a performance on TODAY on April 5th. It has racked up an impressive 123 Million stream on Spotify alone and has reached Top 30 in over 25 countries.