Missouri River Music Festival featuring The Guess Who
April 14, 2018 @ 6:30 pm

-

11:00 pm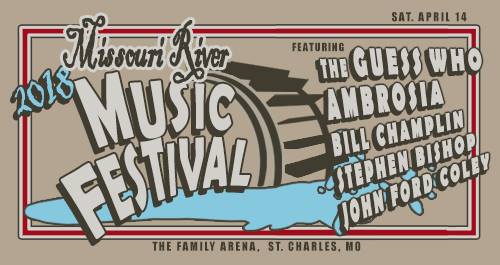 Superstars from classic rock's glory days will come together for one night only at the 2018 Missouri River Music Fest at The Family Arena. https://www.metrotix.com/events/detail/mrmf
The Guess Who, Ambrosia, Bill Champlin, Stephen Bishop and John Ford Coley headline the event scheduled for Saturday, April 14, 2018. Tickets go on sale, Friday, January 5, 2018.
The Guess Who, is a group that's connected with the masses throughout an exultant hit parade spanning fourteen Top 40 hits, including "These Eyes," "Clap For the Wolfman," "Hand Me Down World," "No Time," "Star Baby" and "Share the Land." Add in fellow classics and double-sided singles like their #1 rock anthem, "American Woman" and "No Sugar Tonight," plus "Laughing" and "Undun," and the Canadian-bred stateside conquerors are amongst music's most indelible treasures who are eternally etched within the very fabric of pop culture history.
Ambrosia has garnered 5 Grammy Nominations, 5 Hit Singles (including "You Are The Only Woman," "How Much I Feel," and "Biggest Part Of Me"), along with various movie and television soundtracks; and have earned the admiration and respect of fans and the musical community alike. All this in addition to Sold Out concerts around the world. Today, the band is more alive than ever with founding members Burleigh Drummond, Christopher North, & Joe Puerta; along with the addition of Doug Jackson on electric guitar and backing vocals, Mary Harris on keyboards and vocals, and the powerful and contemporary lead vocals and acoustic guitar of Ken Stacey. Ambrosia is exploring new musical territory and continuing to wow life-long fans and new converts alike.
Bill Champlin is best known for being a member of Chicago, which he joined in 1981 and remained a member of for 28 years. However, his career encompasses much more. The Sons of Champlin formed in 1965 as a five-piece band and later expanded to seven members. The Sons recorded seven commercially released albums between 1968 and 1977 and gained a devoted fan base. Bill received two Grammy awards for his songwriting and has released seven solo albums. He has recording credits on numerous albums by various artists that cover a 30-year period.
Stephen Bishop released his first album, "Careless," in 1976. The album featured the hits "Save It For a Rainy Day," and "On and On." He sang the hit theme, "It Might Be You," from the movie, "Tootsie," as well as writing and/or singing for 13 other films including, "Animal House," and "Separate Lives" from "White Nights." His songs have been performed by artists such as Phil Collins, Eric Clapton, Barbra Streisand, Art Garfunkel, Steve Perry, Stephanie Mills, Kenny Loggins, Johnny Mathis, Phoebe Snow, David Crosby, The Four Tops, Aswad and Pavarotti.
There are songs you hear in your life that transport you to a certain time period or give you a special feeling. Songs like "I'd Really Love To See You Tonight," "Nights Are Forever Without You" and "Love Is The Answer" have that kind of effect on people. Those songs and numerous others have made John Ford Coley a singing legend. He has spent decades touring, writing, recording, and producing.
The Guess Who – http://www.theguesswho.com
Ambrosia – http://www.ambrosialive.net
Bill Champlin – http://www.billchamplin.com
John Ford Coley – http://www.johnfordcoley.com
Stephen Bishop – http://www.stephenbishop.com