Conquest and Savage Amusement
August 18, 2017 @ 7:00 pm

-

10:30 pm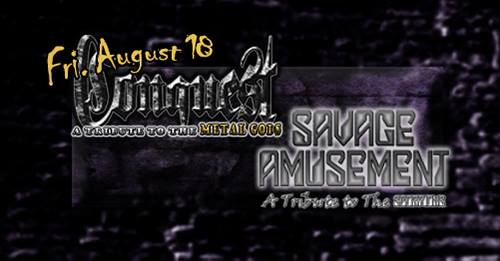 Conquest:
Strong, aggressive, high energy musicians from the Midwest, Conquest has rocked the nation with their pure breed of Modern Heavy Metal stemming from the old school influences of Metallica, Judas Priest and Slayer with the modern sound of Trivium and Shadows Fall.
Conquest formed in late 1988 by founder Derrick Brumley, frontman and guitar player of the band. Joined by Tony Restivo, Tim Fleetwood and Adrian Vesper, Conquest played locally and made their first full length heavy metal record titled Hellraiser (demo). Through the 90's the band experimented with a variety of metal styles only to find the real calling for the band was aggressive in your face high energy thrash. In 1995 with the departure of Adrian Vesper and the addition of Mike Crook, Conquest rejuvenated their heavy root beginning with the European release of Rage. In 2000, Tony Restivo left the band and was replaced by Robert Lloyd. The band began work on what would become their next release No Boundaries. With the success of the No Boundaries tour where they completed a full 70 over the road performance, Jagermeistermusic offered their endorsement of Conquest, opening up new avenues for the band. In 2005 with the exit of Robert Lloyd and the return of former bass player Tony Restivo, Conquest began work on their next project End of Days. After rave reviews record label Dark Star Records joined the forces and released End of Days on June 3, 2008. Metal fans liked the fresh, aggressive, high energy, melodic breed of pure heavy metal Conquest delivers and can count on consistency of their recordings equaling their stage performance. Fast forward to 2013 new bass player Rob Boyer and the next release The War we Rage. The most recent album was Under The Influence which is a tribute to the METAL GODS and released 2016. Currently the band is set to release another original album at the end of 2017.
Savage Amusement:
The Scorpions are the biggest rock and roll export to ever come out of Germany, and were one of hard rock's biggest hit-makers of the 1980's, with powerful rock anthems such as "No One Like You" and the memorable ballads with "Still Loving You".
Savage Amusement is a band that is a tribute to the Scorpions, hailing from St. Louis, Missouri.
With the versatile voice of frontman Wes Stillman, the twin axe attack of guitarists Kevin Bloodworth and Bruce Hunt, and the rock-solid rhythm section of bassist Jeff Myers and drummer Patrick Cunningham, the members of the band are all Scorpions fans. It's a labor of love for them to bring to life onstage the sound, style and melody that the Scorpions are famous for.
Savage Amusement WILL rock you like a hurricane!