Anything Goes Opening Night and After-Party
March 2, 2018 @ 8:00 pm

-

10:00 pm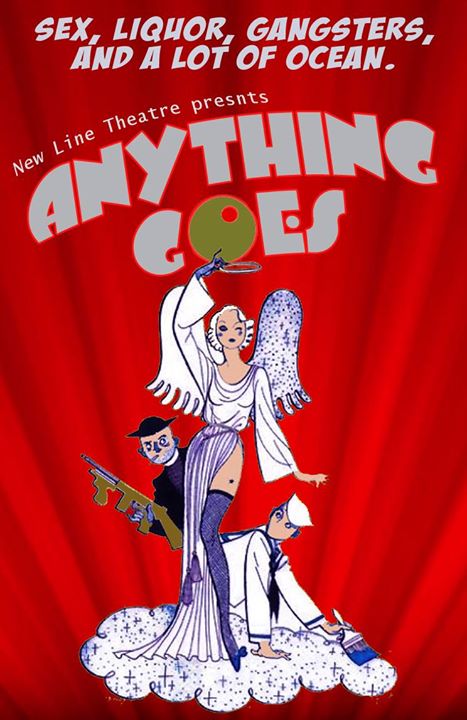 It's 1934 and you're going on a wild transatlantic cruise full of sex, booze, and gangsters.
New Line continues its 27th season with the rowdy, naughty, subversive masterpiece of musical comedy, Cole Porter's Anything Goes, a stinging satire of Americans' quirky habit of turning religion into show business and criminals into celebrities, along the way skewering Wall Street, Prohibition, Old Money Brits, and a few other ripe targets.
First opening in a time when John Dillinger, Bonnie & Clyde, Al Capone, and evangelists Aimee Semple McPherson and Billy Sunday were all national celebrities, this was potent, pointed satire; and it's just as potent today. The show's evangelist turned nightclub singer Reno Sweeney is equal parts McPherson and speakeasy hostess Texas Guinan (the model for Velma Kelly in Chicago). And though we never meet gangster Snake Eyes Johnson, he's seems a fair double for Dillinger.
Despite its reputation, Anything Goes is a smart satire of American "cafe society" (the 1% of 1934), with the steamship S.S. American standing in for Shakespeare's woods, a place with no rules, where people find out who they really are and "correct" the mistakes they've made in the world of the City.
Artistic director Scott Miller says, "It never occurred to me until I was writing a musical theatre history book that the two main themes of Anything Goes are as New Liney as they could be, the commercializing of religion into show business – isn't that what TV mega-churches are? – and the raising up of violent criminals into pop culture celebrities. Can we be sure that Reno Sweeney is any less authentic than Pat Robertson or Joel Osteen?"
New Line has chosen the 1962 version of the show (there are several versions), with a book by Guy Bolton, P. G. Wodehouse, Howard Lindsay and Russell Crouse, and additional songs from several other Porter musicals. The New Liners will return to the wildness and the high-energy subversion of the original production. Miller has been studying the show for some time, including the original 1934 script (which probably couldn't be produced today). "Over time, the show has been turned into a quaint, family-friendly piece of sketch comedy. I want to return it to its original, satiric, adult roots."