"Anchorman: The Musical"? Adam McKay Planned Broadway Run For Comedy Sequel?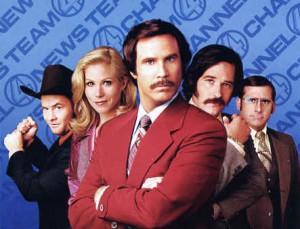 The Anchorman sequel has fallen through the Hollywood system. Paramount has deemed it's request for a $60 million dollar budget as too much, and have canceled all plans for the project. Although, director Adam McKay has discussed with CHUD that the sequel was going to start with a four month run on Broadway, and then begin filming  A little ambitious?
"It was a musical," he told CHUD's Devin Faraci "We were going to do four months on Broadway and then jump right into filming."
However, McKay said the plan was too costly, and there was not enough money in it for the actors.  The $60 million dollar budget did not fit in with Paramount's budget modeling, and the studio was not willing to take the risk.
"It wasn't a smash hit opening weekend," Rudd told Empire Online. "It didn't lose money, but it wasn't The Hangover, so you look at the figures of when it was in cinemas and it's not automatic. You don't take into account DVD sales or how it's grown over the years and so you punch in those numbers and a figure comes up for the budget and for what they might have in mind, there's a chasm."
"I selfishly want to do it again just for the fun of it. And I think it could be as playful and as fun as the original," said Steve Carell.
I think that Paramount might have made a big mistake. The first film is a set feature in pop culture these days, and it would have been much bigger than the first film. Although, I can't help but think that Will Ferrell's last few films had to be a contributing factor, especially since they have pretty much all underperformed.
What do you think? Did Paramount make a mistake by not letting this idea go through? Let us know in the comments!