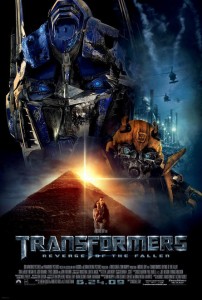 Without a doubt – Transformers: Revenge of the Fallen is easily the most anticipated summer movie of 2009. The sequel to "Transformers," which blew audiences away in 2007 making $319.2 million in the U.S., ROTF has to follow a tough act. But does the movie live up to the hype and anticipation?
The movie starts off during 17,000 BC where robots are battling and destroying humans. How the humans could have survived, seems to be the question, but is not relevant for the story. Enter "The Fallen" – an ancestor of the beloved Autobot Optimus Prime, who we all know and can't get enough of. The robot army, led by The Fallen, can easily tear through any human alive, and seems to have no problem doing so. But the human race survives, and lives to fight another day.
Flash forward to present day. The hero of our story, Sam Witwicky(played by Shia LaBeouf) is getting ready to leave for college. Even if you haven't seen the movie yet, and you have only watched the trailers, you will notice a couple of things that are immensely wrong right from the get-go. Number one – Sam is not bringing his first car to college. While many of us left for college with nothing but a beater car, – Sam has an alien robot that can transform into any car that exists in the known universe. And he leaves it at home in his parent's garage. Number two – he leaves for college without bringing his "Megan Fox," AKA girlfriend Mikaela. This is a decision that would have resulted in 99.9999999999 percent of the male population (with a remainder of infinity, I might add) going to community college near home. But I digress….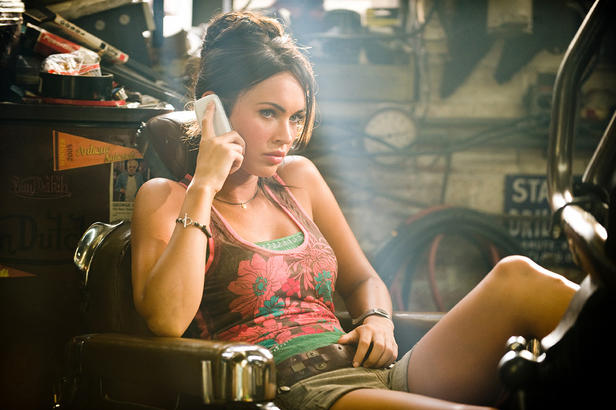 Problems start when Sam is packing for college, and he decides to grab his "lucky" hoodie that he was wearing during the first movie. Unbeknown to our hero, a piece of the "All-spark" was chipped off before it's destroying, and must have been logged into his clothing. From here on, all hell breaks loose. Complete, and utter, robotic hell. Sam seems to have been possessed, and is consumed by the buried secrets that were guarded by Autobots for centuries. He knows things that he doesn't even realize – but the Decepticons do, and they are not afraid to get their hand's dirty in order to find them out.
If it is action you are looking for – it is action that you will get. Transformers: Revenge of the Fallen is full of plenty of robot fight scenes. Enough to make the likes of any sci-fi or action fan drool. And if you are a fan of the original cartoon series, it seems that you will be pleased by the way the movie reminds you of the old show. If you liked the first film, you will not be disappointed. But the film as a whole leaves something missing… at least for someone who is looking for a "good film."
The problem with "Transformers: Revenge of the Fallen" is that it tries to cater to too many audiences. I think that we can all agree that non-stop robot fights and explosions are a must for this movie. In those regards, the movie did not fail. The only problem was following which transformer was which – as most of the time, the camera work and fast-paced action made it VERY hard to tell. But the real issue at hand is that when you were in the middle of some intense action, or even a serious part that is trying to invoke some sort of emotion – it was very hard to take seriously, on account of some of the ridiculous scenes and characters. Imagine watching Romeo and Juliet, and as soon as the main characters are both dead – Jar Jar Binks decides to ride on screen on a unicycle, and juggles an array of flaming swords. It would be very hard to take the film seriously, or to have it make you feel any emotions. That is how I felt during some parts of "ROTF."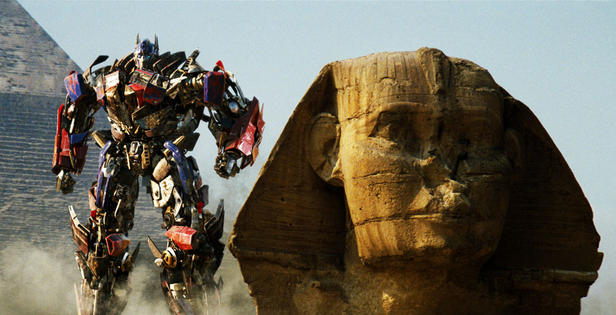 I will get these two main problems with the movie out of the way now, so that we can get past them. Number one – apparently Sam's mother became a completely different character from the first film. Yes, there where some silly parts in "Transformers" that were funny, and were definitely a great break from the non-stop action that we were exposed to. But in this movie, Sam's mother takes it over the top. It is like she went from being a Nobel peace prize recipient, into becoming Spiccoli from "FAST TIMES AT RIDGEMONT HIGH." That is how ridiculous her role was in this movie. In order to try and make the movie funny, Sam's mother turned into a "bleach blond idiot" that just made no sense. Although it probably is funny at first to most of the audience, it simply makes NO sense what-so-ever. The second biggest problem – or "problems" I should say – are the two new Autobots that are introduced to us during the movie. No – you haven't heard of them, and no – they haven't been in anything that we have ever seen before. They were created entirely to try and become the comic relief in the middle of all of the action. But instead of appearing "here and there," these "twins" are given a ridiculous amount of screen time. And all they do is argue and act absolutely idiotic, as they appear to be characters that make no sense as robots. I can stretch my imagination enough to believe that Transformers like Bumblebee can grow to have a relationship with Sam and Mikaela – but the fact is that robots are not going to have gold teeth and act like something out of a "Loony Tunes" cartoon. I can't even comprehend how these characters can be justified.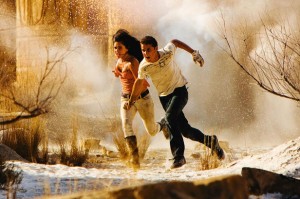 Now that we have gotten that out of the way, let's move onto the acting. I feel that the actors in this film do a good job for the most part. Shia Lebouf always does a good job, and I never have a problem with anything that he is in. Megan Fox does a good job in having a great body, and reading lines – no problem there. John Turturro's character, Agent Simmons, was actually very toned down from the original film. Although there was some crazy scenes that he was in, he was enjoyable for the most part. I am just so happy that the whole "Sector 7" thing was over in this movie. Josh Duhamel did a good job, as he did in the first. Somehow Tyrese's character seemed to have changed in the same way that Sam's mother did – but it was almost bearable.
Overall, if you liked "Transformers," then you will like the sequel. "Transformers: Revenge of the Fallen" is an action packed movie that delivers what you expect it to. From beginning to end, there are endless amounts of gigantic robots fighting, and enough explosions to make 4th of July fireworks look like "pop-rocks." If the run time of 150 minutes is not a problem, then you surely will get your money's worth. The movie is fun, certainly entertaining, and the story is definitely interesting. I think that if it weren't as long, and some of the unnecessary scenes were cut out, the movie would be much more solid.
I give "Transformers: Revenge of the Fallen" a B-
—————————
Blake's Take:
Easily the most hyped movie of the summer, Transformers: Revenge of the Fallen has a lot of expectations to live up to. The biggest problem is that it fails on almost every turn it makes. The first film was interesting, engaging with some good almost mindless action, fun characters and over the top action scenes. This time all I got was the mindless part, the fun and the characters are missing from much of this story. Which is an extreme disappointment.
In the end, Transformers: Revenge of the Fallen works when it is focusing on what it does best, fighting robots, but is oddly paced and feels drug out for nothing of any kind of substance. Things are just happening for little reason sometimes and the plot in the later half of the film is almost an exact rip off (even down to the path and buildings) of Indiana Jones and the Last Crusades search for the cup of Christ. The first third of the film shows promise, even if similarly flawed to the first film, but eventually grows so big and has so little substance that we feel like we are waiting for something interesting to happen; and thankfully it is entertaining when it does. But I don't know, fans of the first film will have some fun but I find it hard for anyone to merit this as being better then the first and if you weren't a fan of the first one stay far, far, away; there is nothing for you here.
Revenge of the Fallen is a C-, and I don't know how well that will hold up.