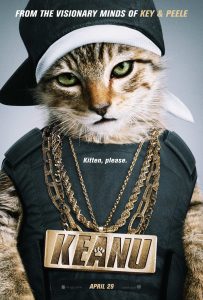 After over a decade of killing it in TV sketch comedy, Jordan Peele and Keegan-Michael Key are finally on the big screen together in their first feature film.
In Keanu, the comedy duo delivers almost exactly what you'd expect from a bit on their brilliant Comedy Central show, Key and Peele. The movie picks up on a thread they started in a sketch on the show called A Cappella, featuring the two as rivals trying to join extracurricular groups full of the whitest white boys. In the film, they continue exploring variations of racial identity, supported by a healthy dose of slapstick and the absolutely absurd.
Written by Peele and a writer and co-producer of Key & Peele, Alex Rubens, the plot itself is really more of a parody of a plot, highlighted by the infeasible catalyst for the whole debacle: a bunch of hardened drug dealers and one recently dumped stoner fighting over possession of a wee little kitten.