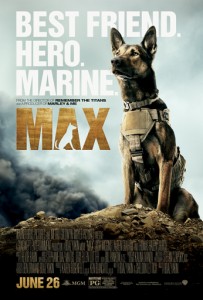 I'm a sucker for dog movies, I admit it.
I cry like a little bitch at the ASPCA commercials, so maybe my take on "Max" isn't as reliable as some heartless asshole's take.
"Max" is 100 minutes of dog love, pure and simple.
Dog lovers will devour this movie and be left begging for seconds.
"Max" is a German shepherd, that was trained by the military to assist in weapons finding missions.
It just so happens that Max's trainer/owner is shot and killed early on in the movie.