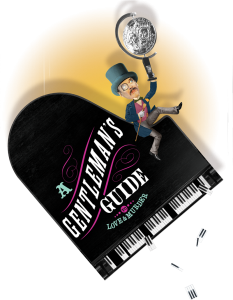 When you hear about a musical titled, "A Gentleman's Guide to Love & Murder," there is little worry about the show resembling the ordinary. Throw in a 2014 Tony Award for Best Musical, and there is no question that something really special is going on at the theatre. And if there are still any doubts, let me put an end to them right now by saying that this highly original and entertaining show is nothing less than extraordinary.
Going into A Gentleman's Guide, I tried to stay away from as many details as possible. Knowing the little that I did – that it was an award-winning musical staring actors playing multiple roles – I wanted to find myself surprised as the story unfolded. What ended up occurring may better be described as memorizing, becoming thoroughly captivated by the hilariously clever story and fantastic musical numbers.
The hero (turned anti-hero) of the show is Monty Navarro (KEVIN MASSEY), a poor young man who has recently lost his mother. Not knowing how he is going to survive without her, he is soon visited by an old family friend – Miss Shingle (MARY VANARSDEL) who tells him that his mother was actually the daughter of the grandson of the nephew of the Second Early of Highhurst. Soon after discovering he is ninth in line for the throne, he hatches a plan to eliminate those who stand in line before him. He believes that once he is Earl, he will win over the love of his life – Sibella (KRISTEN BETH WILLIAMS).