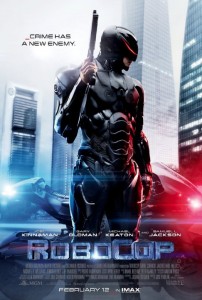 It was Valentine's Day Weekend and love was in the air. So, of course, this week on the show we tackle Robocop. Well, ok, nobody "tackles" Robocop. Although…ED-209? No, they don't really "tackle" things.
They just shoot them. So, um, anyway…this week's podcast is about Robocop. Did it recapture the dark-comedy heights of the original? Did the PG13 rating rob it of impact? Would anyone buy it for a dollar?
All this and more will be revealed in this week's episode.
Plus, Tom tells us why Endless Love is even worse than it looks and Dan has a video recovery that sounds like a porn but, sadly, is not.
It's Reel Spoilers #33 – Robocop.
Dead or alive…you're listening to us.
Starring: Tom O'Keefe, Joe Buttice, Dan Graney, Steve Kelley, Kevin Brackett
Run-time: 58 min
Subscribe to Reel Spoilers: reviewstl.com/category/reel-spoilers/feed/
Want to take Reel Spoilers on the go? Download episode 33 from TalkSTL.com.