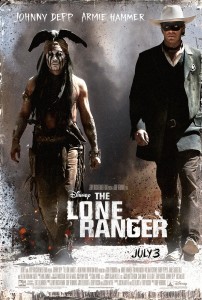 Walt Disney Pictures and Jerry Bruckheimer team up once again with Johnny Depp for The Lone Ranger, in an attempt to capture the magic of the Pirates of the Caribbean franchise. Unfortunately for the $215 million dollar summer blockbuster, lightning didn't strike twice. The film opened over the five-day holiday weekend with an unimpressive $48.7 million dollars, against Despicable Me 2 which brought in a whopping $143 million during the same period.
This week on "Reel Spoilers" we discuss and dissect The Lone Ranger, and try to figure out where Disney went so terribly wrong. Also, Dan gives us another "Video Recovery" on Silverado (1985) starring Kevin Kline, Scott Glenn, Kevin Costner, Danny Glover and many others. Bonus trivia: were all the mustaches in Tombstone real? Find out now on Reel Spoilers!
Reel Spoilers Episode 3: The Lone Ranger
Starring: Tom O'Keefe, Joe Buttice, Dan Graney, Blake Fehl and Kevin Brackett
Run-time: 34 min
Subscribe to Reel Spoilers: reviewstl.com/category/reel-spoilers/feed/
Want to take Reel Spoilers on the go? Download episode 3 from TalkSTL.com.