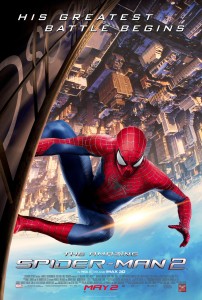 This week on the show it's The Amazing Spider-Man 2. Or perhaps we should call it The (Allegedly) Amazing Spider-Man 2. Well, all of us except Kevin will call it that.
Also, in Blake's absence, we welcome a new guest Allison Sommers Kelly from the podcast Verbal Justice (iTunes). Or Gerbil Justice. The Skype connection was a little wonky. Herbal Justice maybe? Burple Justice? An entire podcast dedicated to the memory of the Kool-Aid knock-off in the accordion style container? That sounds like the tastiest podcast ever!
All this plus a box office report from Kevin, a Video Recovery from Dan and awful cough from Tom that he wasn't successful in concealing.
It's Reel Spoilers #42: The Amazing Spider-Man 2.
You've been warned.





Starring: Tom O'Keefe, Joe Buttice, Dan Graney, Allison Kelly, Kevin Brackett
Run-time: 1hr 18min
Subscribe to Reel Spoilers: reviewstl.com/category/reel-spoilers/feed/
Want to take Reel Spoilers on the go? Download episode 42 from TalkSTL.com.