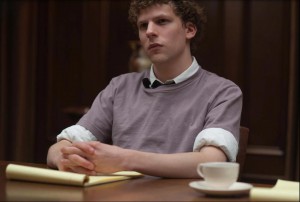 As if we aren't gonna be bombarded with enough "Best of the Year" lists, I give you the list of winners from the National Board of Review.  This is significant only because their pick for the best film of the year has gone on to win the Oscar the last two out of three years.  Can they make it three this year? 
Best Film: The Social Network
Best Director: David Fincher, The Social Network
Best Actor: Jesse Eisenberg, The Social Network
Best Actress: Lesley Manville, Another Year
Best Supporting Actor: Christian Bale, The Fighter
Best Supporting Actress: Jacki Weaver, Animal Kingdom
Best Documentary: Waiting for "Superman"
Best Animated Feature: Toy Story 3
Best Ensemble Cast: The Town
Best Original Screenplay: Chris Sparling, Buried
Best Adapted Screenplay: Aaron Sorkin, The Social Network
The only two that truly surprised me were Jesse Eisenberg for lead actor and Chris Sparling's Buried winning original screenplay.  Eisenberg was good, but Colin Firth, Jeff Bridges, and James Franco all seem more likely to win the Oscar.  And Buried doesn't exactly seem like an original concept to me, but what do I know.  I would much rather see Inception win original screenplay.  The Board then went on to name their ten best excluding The Social Network.
Another Year
The Fighter
Hereafter
Inception
The King's Speech
Shutter Island
The Town
Toy Story 3
True Grit
Winter's Bone
I am very happy to see The Town and Shutter Island make the list.  Surprised to see Hereafter make it, and even more surprised films like The Kids Are All Right, Black Swan, and 127 Hours did not.  How well does this predict the rest of the awards season?  Only time will tell.
What do you think of these awards?  Let us know in the comments below.