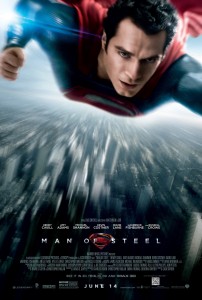 I am a big Superman fan. When it comes to DC comics, he is only second to Batman – because let's face it, Batman is the best. But in all seriousness, Superman is an amazing superhero. He is also an American icon, who has fought for truth, justice and the American way for over 75 years.
Leading up to the big release for Man of Steel, I found myself watching trailer after trailer, hunting for new stills, hoping to get a glimpse of our hero in his new red and blue. When the first teaser trailers came out, narrated by Russel Crowe and Kevin Costner, they nearly brought tears to my eyes. They were perfect. Those teasers still send chills through my body, even after seeing the film twice.
The second official trailer came out, and gave us our first real look at the film. We see young Clark Kent, and get a glimpse into his struggle with being different. "You just have to decide what kind of man you want to grow up to be Clark," Jonathan Kent tells him. "Whoever that man is, he's gonna change the world." It just kept getting better and Better. And the third trailer was no exception, and is probably one of the best trailers I have ever seen. I hadn't been this excited to see a movie since The Dark Knight Rises.
When it came time to finally see Man of Steel, stakes were high and expectations were even higher. Zack Snyder, Christopher Nolan and Warner Brothers built this film up so much for me that they had better deliver. And when I left the theater, there was no doubt it my mind that they had done it.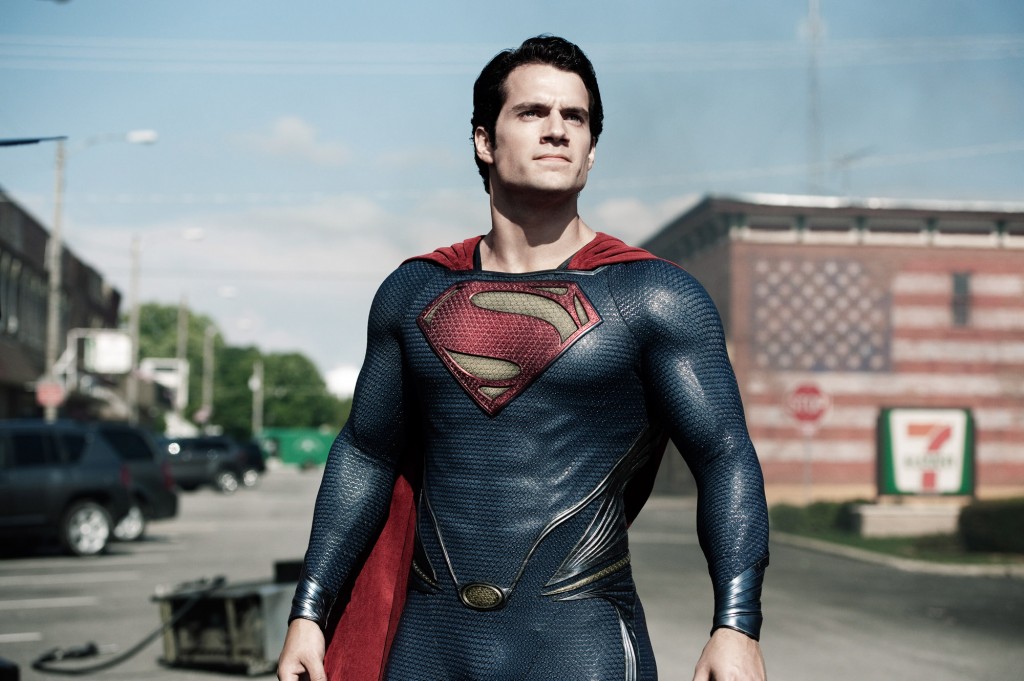 So why were so many negative reviews coming in? Why were the top critics around the country split down the middle on Rotten Tomatoes? Was this not the best Superman film ever made? Many would argue no. Until convinced otherwise, I would say yes. Spoilers ahead.
One of the biggest complaints that i am hearing, which is getting an overwhelming amount of the blame, is the ending. If you are reading this, you should have already seen the film, and know that Superman kills General Zod. Zod threatens the lives of several humans who are caught between him and a battle with Superman, and aims his heat vision directly at them. Superman has him in a choke hold, and begs Zod not to do this. But in the end with Zod's promise to kill every human on Earth, and his sights no more than a foot away from his victims, Superman has to make a decision that he had never hoped to – to kill.
If you or anyone was in the position that Superman was in, what would you do? By choosing not to kill Zod, which would have ultimately meant the death of several others on a smaller scale, is that not killing? By making the choice not to save a life, are you taking one? That is a philosophical question that is up for debate, but in either case that is the one that Superman faced at that very moment. And he did something that he obviously regrets having to do, as he yells out in agony after the deed is done. But what other choice did he have?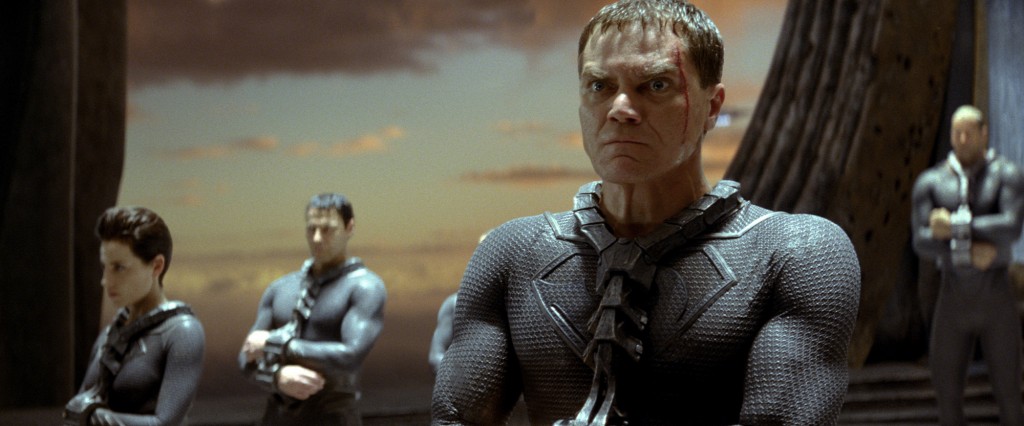 You can argue that Superman should have never been put in that position in the first place, never having to make the choice. But even so, look who he was dealing with. Zod is from Krypton, chosen to be a warrior, and has trained for years to do so. He was literally born for it. Physically, he is Superman's better. Even though Superman has had more time to adapt to Earth's conditions and understand his powers, it doesn't take long for Zod to figure it out. And it makes sense; again, Zod was the general of the entire army on Krypton. How could someone with no military training compete with their physical equal, who was bred to kill. And I commend Superman for doing as great as he did. The point is, if Superman didn't kill Zod he would have killed those innocents there – and wouldn't have stopped until either he or everyone on Earth was dead.
Now let's look at Superman's past. For those who are saying the film went against everything that Superman stands for, let's look at what he has done in the source material and previous films.
In Superman #22 (1988) by John Byrne, he kills the three Kryptonians after they commit mass genocide. The choice was no easier to make then, but it is once that he has to live with.
In Superman Volume 2 Issue 75 (1993) Superman has to make the decision to kills Doomsday, or let him kill countless humans. He even says, "For Lois… and Jimmy… For this ENTIRE CITY… I've got to put this guy away while I still can!" He isn't talking about putting him behind bars. In the end, he kills Doomsday – ultimately sacrificing his own life for the lives of the people he loves.
In Superman 2 (1980) Kryptonians Zod, Ursa and Non escape from the Phantom Zone. They come to Earth, forcing the president to kneel before them and plan to enslave the planet. After taking Lois hostage, Superman lures them to his fortress of solitude (with the help of Luthor). There he tricks them into losing their powers, and defeats the three of them.
Superman crushes Zod's hand, throws him hundreds of feet in the air and lets him fall to his death. Non tries to fly and attack Superman, and he lets him fall to his death. Lois actually kills Ursa, by punching her and letting her fall to the same doom as Non.  The argument can be made that we never "see" them die, as we do in Man of Steel, but I think the demise is obvious with their powers gone and them falling from such heights.

Superman does not ever want to kill. But he also does not want to let people die. Saving people is pretty much what he is all about, and if it comes down to making the ultimate sacrifice – it is a decision that is not taken lightly. You can make the argument that Superman didn't kill for 50 years in the comics. But remember that this is a reboot, and Superman didn't have 50 years before killing Zod. This is a young Superman, one who hasn't had decades to come to terms with his powers and why he is on Earth. It shows in the scene where he lets his emotions get the best of him, when Zod threatens Martha Kent. An inexperienced Superman flies through the air full force into the general, pummeling him through buildings and gas stations. He causes explosions, puts the lives of several at risk. This is the Superman we are dealing with, and one that will have to grow as he learns from his triumphs and failures.
Yesterday, Entertainment Weekly wrote an article titled "What 'Man of Steel' gets wrong about Superman (hint: that ending)." The first thing you see is this image from Action Comics #583: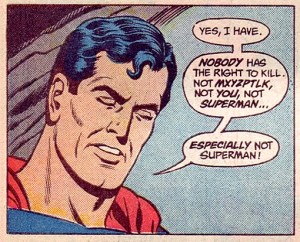 Using this as proof that Man of Steel is a failure because Superman kills is absolutely ridiculous. Why? Because the panel happens right after he just killed someone. "I killed him Lois! I Intended to kill him!" Of course Superman "shouldn't kill," and nor does he want to. But the fact of the matter is that he has done it before, and he hates himself for it. Here is the entire page, with the aforementioned panel in context: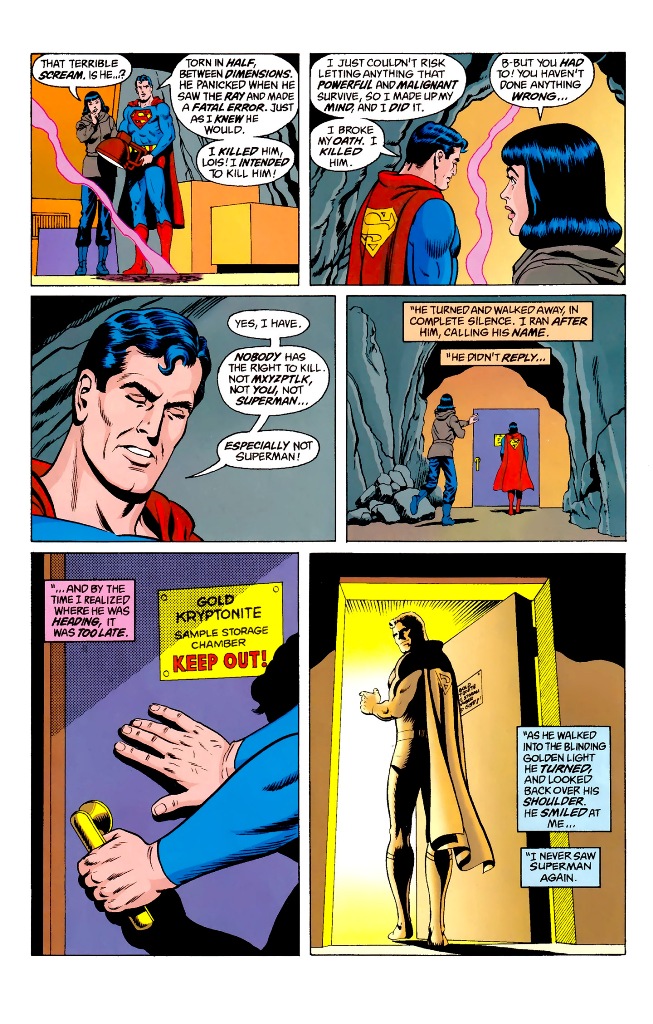 The question at hand is: with Zod on the loose, and the lives of billions at stake, what would you have Superman do differently. I would love to hear your opinions in the comments.
Previous Comments: