"Fill it up again!" – My Look at Forest Park's 15th Annual St. Louis Microfest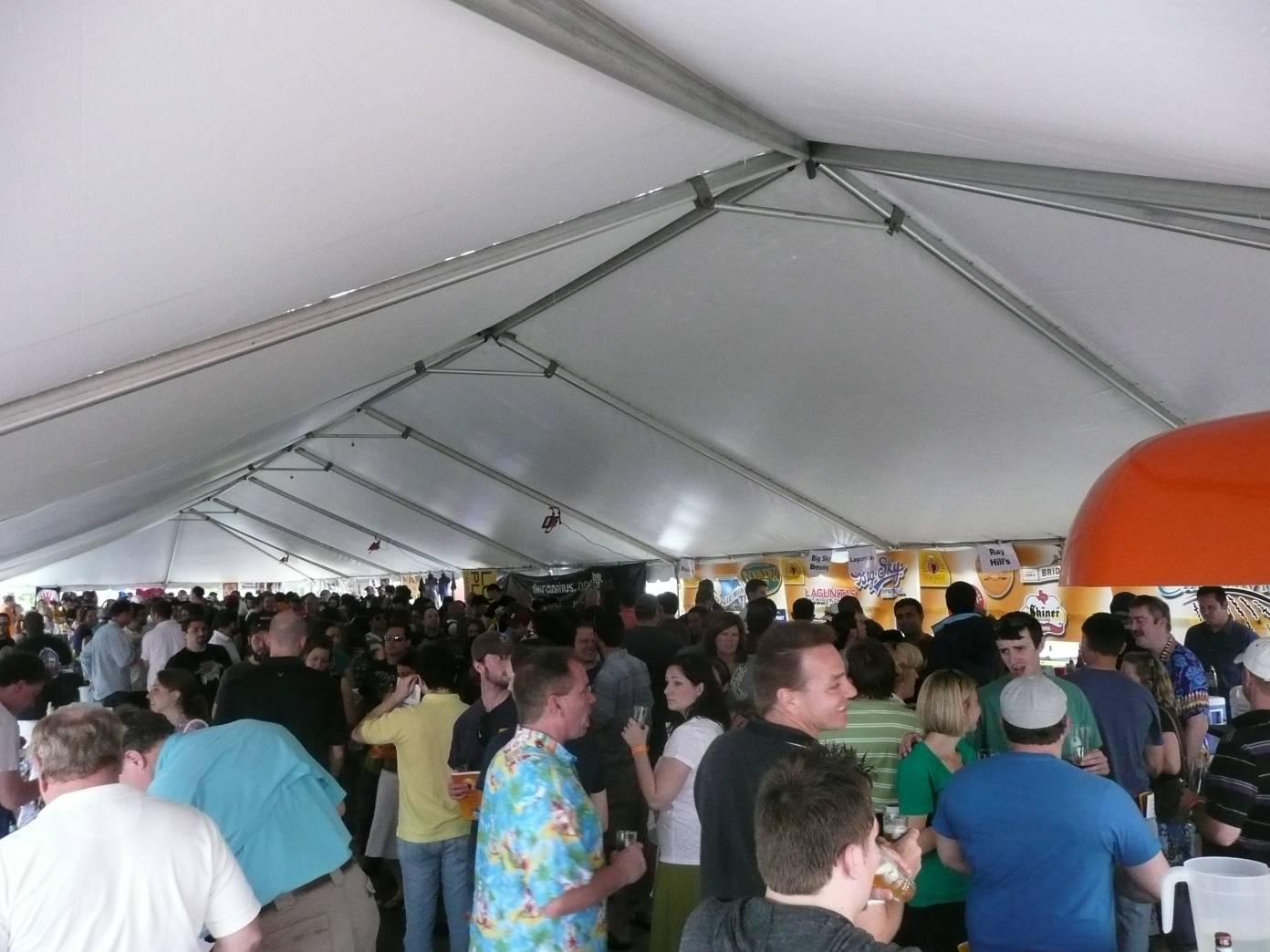 This past weekend, Lift for Life Gym sponsored what I like to call, "Spring Christmas".  The rest of the city called it the "15th Annual St. Louis Microfest".  Luckily for me, the good folks at www.reviewstl.com were able to play Santa and send me on an assignment to explore this beer bonanza and give my opinion of the different brews that were displayed.
Before we go any further let's get this out of the way.  I am by NO means claiming to be an "expert" on beer.  What I can say for myself is the following:
For the past 3 years, my friend Jake Ellis and I have been brewing our own beer together
I've been known to throw back a few (dozen) from time to time
For the past year or so, I've bought a different 6 pack of beer every week to try something new. (As I type I'm sipping a New Belgium Ranger IPA.)
These things don't mean that I know more than you, that I know what you're going to like, or that you're going to like the same beers that I do.  What it does mean is that I probably know more than your average Joe and that's about it.
Now that we've made all the haters shut they 'moufs', let's talk about the festival.  The Microfest was a 3 day event held in the Upper Muny parking lot in Forest Park that consisted of 4 different beer "sessions".  There were also Demo Tents that told you what beers to drink with chocolate and things like that and also a "Brewer Olympics" competition (Shawn Herrin from Augusta Brewery won in 50.87 seconds) but this article is about the beers, not the fluff.  The one thing I will talk a little about later is the homebrew competition but for now, let's get back to the professionals.
On Friday, April 30th the festival featured International Beers, May 1st had afternoon and evening sessions comprising of American Craft Beers by day and American and International Beers by night and May 2nd again featured the American and International Beers.  I personally attended the Saturday afternoon session of American Craft Beers.  They had dozens and dozens of beers on tap (by my count, there were over 65 brewers) and I can honestly say, I tried at least one beer from all of them.  Now, I don't want you to start saying "he's a beer god!" or contrarily staging an intervention because I had that many beers, so let me tell you about the formula of the event.
For my session, it was $35 to enter ($27 if you paid in advance or free if you volunteer to work a session so look for that next year) and for that fee you receive a small engraved glass that can hold about 4 oz of liquid and all the samples you can handle.  To be fair, this glass has a "fill line" on it so you're at most going to get a 2 oz pour, which most brewers stuck to.  So by trying anywhere  from 60-90 beers, you're talking 120-180 oz or 10-15 beers total.  Bear in mind that I'm a not a small guy, and that this is over a 4 hr period so most of my friends would go buy me a skirt if I couldn't drink that much. On to St. Louis beer reviews!
** Safety Disclaimer:  My wife and father (Brandy and Keith) attended with me and my wife was nice enough to play chauffer for us **
With all the background info out of the way, let's get to the reason you all clicked on this article: taste test.  Having my wife and dad there was great because their palates are definitely much different from mine.  My dad enjoys his malty dark beers, my wife likes her blonde beers and lambics, and I prefer IPAs and Pale Ales.  These different styles were all represented in many forms and choosing favorites wasn't an easy task.  I can't talk about every beer that was available or this article would be posted even later than it's already going up, so I'm going to focus on a handful that really stuck out.  Here's how my scorecard looked after approximately 80 rounds:
O'Fallon Brewery: Hemp Hop Rye – This beer is one that I can say I had not tasted until this event (it was just released this past February).  Being a local brewery (O'Fallon, MO) I'm always eager to try their latest concoction.  The HHR is an amber beer that isn't overpowering with the amount of hops in the recipe and has a sweet caramel balance.  The roasted flavor really stands out and I'm sure a huge part of that has to do with the toasted hemp seeds used in brewing.
Square One Brewing: St. Louis Lager – When trying to represent a City using the name of your beer, expect to be held to a higher standard.  Unfortunately, this brew does not deserve to use the name of the 2nd most dangerous city in America in their title.  To me, this tasted like an amateur homebrew with no real flavor standing out.  The beer goes down just fine and it could classify as a session beer, but the same could be said about Natty Light, so no thanks.
The New Albanian Brewing Company:  Elector – This Imperial Red Ale was unique and delicious.  You expect the malt flavors from a Red Ale but Elector also delivers a healthy dose of hops.  The balance of this beer is highly impressive and this will be one that goes on my list of 6 packs ASAP.  (FYI They also had a beer called Hoptimus on tap that reminded me of Southern Tier's Unearthly IPA.  It was awesome too.)
23rd Street Brewery: Bitter Professor IPA – Even as a hop-head, I have my limits.  This beer packs such a hop-wallop that it was simply too much for me.  I'm lucky to still have tastebuds after just 2 ounces so a full bottle would have hurt.  Try at your own risk.  (Also along these lines, my wife refused to kiss me after I drank Bridgeport Brewing Co.'s Hop Czar.  The odor on that was intense and the flavor was quite strong.)
75th Street Brewery: Royal Raspberry Wheat – Now, I've had homebrewed raspberry wheat beer last year thanks to my wife.  However, the difference between her "Gangsta Rapsberry Wheat" that she brewed with her friend Heather and the 75th Street brew was plentiful.  As expected, it was sweet but not too sweet, had a great color and aroma and went down almost too smooth.  This beer is SO good, my wife put it on her "dangerous list", meaning before she knows it, she could be a 12 pack deep.
Tallgrass Brewing Co.: Buffalo Sweat – This stout was by far the best stout I tasted all day.  It was very dark, very malty and very delicious.  My dad was in heaven when we got to sample this one and I can say that I wasn't far behind.  According to their info they were handing out, "With Buffalo Sweat, tasting is believing!" and I more than agree.
Twisted Pine Brewing Company: Billy's Chilies – When you think of habaneros, jalapenos and beer, typically it's a quick swig of brew trying to put out those pepper's flames.  With Billy's Chilies however, the beer is packed with the flavors of these peppers themselves.  I had a few samples of this because I couldn't quite accept how these flavors were making my palate so happy.  It's no session beer, but it is strangely refreshing with a mild finish.  Cooking with this beer would produce delicious results, and their website (http://www.twistedpinebrewing.com) even has a tamale recipe for you to try.  This is the only beer on the list that I am recommending that everyone go buy a 6 pack of (they begin distribution in MO at the end of this month).  Love it or hate it, you have to try it.
With all the fuss over the different beers on tap, I thought it only right to include my opinion on the best Brewery that was in attendance.  I looked for a brewery that didn't necessarily have the best beer but had the best collection of beers.  Far and away, when I got to the stand for Crown Valley Brewing, my search had ended.  The beers they brought for the festival (Wooden Nickel IPA, Old School Pilsner, Big Bison Ale, Worktruck Wheat) would have stood out on their own as I made my way through the line but the fact that they were all on display at one table was fantastic.  Crown Valley operates as a brewpub in St. Genevieve, MO and unbeknownst to my wife until she reads this, we will be taking a trip this summer to enjoy their elixirs in their natural habitat.
Aside from the professionals, there was a home brewing competition held this same weekend which 193 different beers were entered into.  Although there were no samples from these booze chemists available during the tasting portion of the festival, they did hand out the homebrew awards on the main stage at the end of my session.  There were 6 different categories but the competition to watch was definitely the "Best in Show".  The Best in Show took the winners from those 6 categories and pitted them against each other with the winner taking home a 22 gallon conical fermenter, donated by The Respiratory Group, which retails for $389.99.  I was able to catch up with the winner('s friends since he wasn't in attendance) and get some insight on his accomplishment.
Tim Hayes took home top honors for Best in Show this year for his American Amber Ale and Jeff Britton accepted the award on his behalf since Tim wasn't able to make it.  Jeff and Tim are both members of the Garage Brewers Society (www.garagebrewers.com) that holds meetings on the 3rd Tuesday of every month at the O'Fallon Brewery in O'Fallon, MO.  These meetings consist of drinking homemade beverages, swapping recipes and bouncing ideas off of each other.  They also have in house brewing competitions and barbecues occasionally so it's basically like a grown up version of Boy Scouts.  How you ask?  Replace "Pinewood Derby" with "Brew Competition" and replace "Campfire with Smores" with "Charcoal Pit with Enough Ribs to Make Fred Flintstone Jealous".  I know where I'll be on the 18th of this month.
To sum it up, I had a fantastic time trying so many new beers and would go back in a heartbeat for next year.  Is it worth it?  Honestly, no.  The only way I justified spending this much was that I was paying $25 for the beer and making a $10 donation to Lift for Life.  The VIP upgrade for $15 was a joke, coming with 3 trips through a "buffet" line that had gumbo, salami, cheese, cookies and shredded bbq chicken so next year, stay away from it.  The festival is overpriced when directly compared to similar festivals that go on right here in St. Louis (http://www.westportstl.com/BeerandBrats.html) but to be fair the selection was much greater.  In other words if you like beer, you'll love the STL Microfest so go and you won't regret it.  On the other side, if you're strictly a Bud Light kinda guy, save your money, go buy two 30 packs for the same price and stay home.