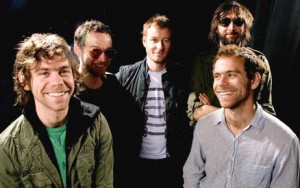 Hearing The National soundcheck, while buying Starburst at the Suite 100 store attached to the Pageant, reminded me how excited I was to see them in St. Louis. A short, but energetic, set at Lollapalooza left me hungry for full concert.
Being used to performers often ignoring the actual time on the bill, it was surprising to see the opening violinist Owen Pallett come on stage as scheduled. A master of loops, he was easily able to imitate the sounds of around a six piece group with only himself and a companion guitarist/bassist/percussionist. The pair were no nonsense (save maybe Pallet's companion's Justin Bieber adourned guitar) and songs like "Keep the Dog Quiet" sounded concise and characteristically tense. He kept the banter to a minimum, speaking briefly on his deficiencies as a salesman. The most entertaining feature of the set was to hear Pallett's complex melodies arise from so little movement. Although he is a violinist, most of his song building is done with his feet.
After a short wait, The National headed out led by Matt Beringer in a three piece suit. Not wasting anytime, they headed right into "Runaway", with the seven piece band taking full advantage of the Pageant's acoustics. Beringer's drinking of what I suppose to be white wine, intimate lyrics, and relaxed crowd led to a personable experience. Beringer often seemed to be reserving his energy by hitting his hands together, or just waving his arms. At one point, while roadies worked on equipment, the band decided it was a perfect time for some "awkward banter" that wasn't all that awkward. The band's admission that they refer to their lead singer as "Dick Jagger", due to his haughty fashion conscientiousness, drew laughs from the crowd.
The vibe stayed fairly static for most of the show, as jams like "Bloodbuzz Ohio" were tamed by the likes of "Afraid of Everyone". Before heading into the song "Available" guitarist Aaron Dessner commented on the band's dark nature saying "If you think the rest of our songs are dark". Although dark, the show was definitely enjoyable and the band continued to keep it lighthearted, and talked frequently. "Fake Empire" was the prefect way to end the first set and the bend quickly returned for a three song encore kicked off by "Vanderlyle Crybaby Geeks".
If you could chart the energy level of the concert it would definitely look like exponential growth, with "Mr. November" as the peak. Beringer finally let loose and descended from the stage, walked across tables, all while using the rest of his voice howling "I'm Mr. November!". He ended up someone near the bottom level bar, and passed by me on his way back to the stage through the crowd. The set was finished off with the first song from their new album High Violet, "Terrible Love". This lush piece served as a strong representation of the well orchestrated night.
Setlist:
Runaway
Anyone's Ghost
Mistaken For Strangers
Bloodbuzz Ohio
Baby We'll Be Fine
Slow Show
Squalor Victoria
Afraid of Everyone
Available
Cardinal Song
Conversation 16
Apartment Story
Sorrow
Abel
The Geese of Beverly Road
England
Fake Empire
Encore:
Vanderlyle Crybaby Geeks
Mr. November
Terrible Love